Where to Add Privacy Policy
If you own a website or mobile application, you'll need a Privacy Policy to comply with legal regulations and protect you and your organization from liability.
In this article, we'll show you examples of where you can add a Privacy Policy on your site or mobile app.
Do I Need a Privacy Policy?
A lot of international privacy laws require a Privacy Policy if you collect or use personal information from individuals.
Personal information is anything that can be used to identify someone, such as a name, email address, mailing address and even an IP address.
Where Should I Display my Privacy Policy on my Website?
You have a number of options for where to display your Privacy Policy on your website.
Let's take a look at some examples.
Footer Links
British-based health food retailer Grape Tree displays its Privacy Policy in the Useful Links section in the footer of its website:

The Privacy Policy is grouped with similar items such as Contact Us and Terms and Conditions. This ensures the policy is visible for any visitors who wish to see how their personal data will be used by Grape Tree.
Even a footer menu with a large number of links, such as Facebook's, is a good location for a Privacy Policy:

Regardless of the size of your website or the number of links within your footer menu, it is a very useful location to place a link to your Privacy Policy.
Think about it this way: if you were browsing and wanted to look up a Privacy Policy on a website you were visiting, where is the first place you would look? It's quite likely you would scroll straight to the bottom of the page and take a look at the footer menu.
Side Menu
Since scrolling down to the bottom of some sorts of sites isn't practical for users, the Privacy Policy can instead be provided in a box on the side of the screen.
Here's how Twitter does this:
Twitter groups the Privacy Policy with similar items to ensure users have easy access to related policies.
Signup Forms
It is important to include a link to your Privacy Policy if you offer users the opportunity to sign up for a mailing list, an account, or a similar service.
Where Should I Display my Privacy Policy on my App?
If you have a mobile application, there are rules set out by Apple, Android and other app store services which state you must have a Privacy Policy if you provide an app on their platforms.
Not only will you need to include details of the Privacy Policy within the app itself, but you will also need to provide it in your app store listing.
In-App Examples
Let's take a look at a few examples of where you can display your Privacy Policy within your mobile app.
Dark Sky is a hyperlocal weather forecasting service available on iOS and Android. For the app to work as designed, it collects data about the user's location and contact details for local weather reports.
On the home screen of the app, the user can access the Settings screen by selecting the cog in the top right hand corner: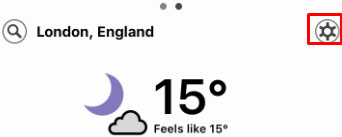 On the Settings screen, the Privacy section gives the user a couple of options. Firstly, the user has the option to enable or disable Analytics, which anonymously tracks how the user interacts with the app. Secondly, the Privacy Policy is clearly available to be viewed.
Clicking on the Privacy Policy link takes the user to the Dark Sky website, where they can view the policy in full.
Glympse is a mobile app which provides real-time location sharing services. It collects personal data and location details in order to improve its products.
The users of Glympse need to be aware of how sharing sensitive information like their location will be used and stored. When the app is opened for the first time, the user is greeted with the User Data Retention Policy and a separate link to the Privacy Policy: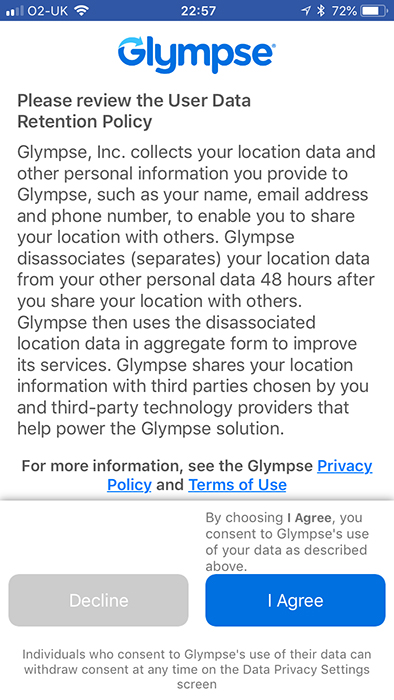 Users have to agree to the policy in order to advance and use the features of the app. Displaying the Privacy Policy and seeking explicit consent is a very good idea if your app is using identifiable personal data.
Finally, WhatsApp is a text, voice and photo messaging app used around the world. The app is highly focused on protection of personal data and privacy, using end-to-end encryption as a security measure to stop messages being intercepted.
WhatsApp users can access the Privacy Policy by accessing the Help section on the Settings menu: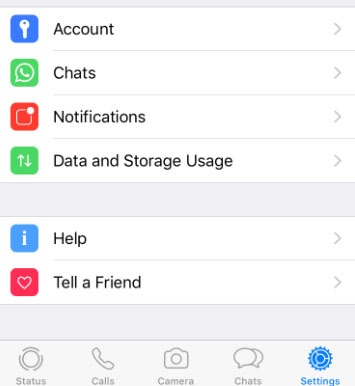 Users can then access the Privacy Policy by selecting the link on the next page: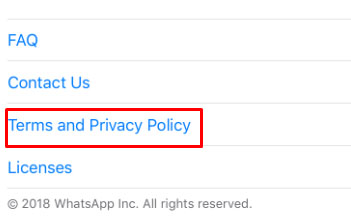 The Privacy Policy is hosted on the WhatsApp website, which users are taken to when they select the link within the app.
There are a number of options for displaying your Privacy Policy within your mobile app. The most important thing is to ensure that it is clearly labeled and easily accessible. Making it easy for users to see how their data is being used will help you comply with legislation and app store requirements.
Summary
As we've seen in this article, there are a number of options for placing your Privacy Policy on your website or within your mobile app.
On your website, make sure the link to your policy is easily visible throughout your site. Placing the link in a footer menu is one of the easiest ways to do this, as your footer will be present on every page on your site.
You should also include a link to your policy in sign-up or registration forms at the time when you're asking users to provide you with personal information.
For mobile apps, you need to ensure you include the Privacy Policy both in your app store listing and within the app itself. Ensure your policy is easy to navigate to from within your app menus.